Our approach always focuses on obtaining the best possible result and minimising risk
Each project requires its own unique approach, which we will establish following an initial discussion and review of the project documentation. RJH will always provide a very personalised service, and we like to work as closely with our client's in-house teams as possible as this enables us to work more efficiently and ultimately to maximise the result obtained.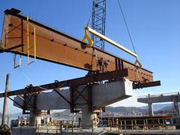 The approach that we take will always take account of any concerns regarding the ongoing relationship with your client.
RJH only provides highly experienced and qualified construction professionals whose particular expertise is suited to the specific challenge faced. We do not provide junior or trainee staff and can guarantee that our services will always be provided directly by the senior personnel whom you meet from the beginning.
Most importantly we will always be on hand to discuss any concerns or queries that you may have, and will keep you updated on progress by regular discussion.